RecommendMail Facebook LinkedIn
EVIDIR alpha thermal imaging camera and infrared modules – one size for all variants
Make heat visible to precisely measure and evaluate temperature data. With the EVIDIR alpha thermal imaging camera, you can take thermal images and thermograms with outstanding image quality.
Thermal imaging camera and infrared modules EVIDIR alpha - one size for all variants
Visualization and analysis of temperature distributions
The new family of EVIDIR alpha thermal imaging cameras feature outstanding thermal image quality and optimized size, weight and performance. Infrared camera modules for system integration.
Based on modern 12-μm uncooled microbolometer technology, EVIDIR alpha thermal imaging camera modules deliver sharp and detailed thermal images with a thermal sensitivity of less than 30 mK (NETD).
The modular design gives customers maximum flexibility
With the modular approach, EVIDIR gives the user the greatest flexibility possible so dimensions, interface and software won't change, regardless of how it is used:
Viewer or radiometer,
without shutter, with internal mechanical shutter or both,
VGA (640x480) or QVGA (320x240) resolution,
<9 Hz or 60 Hz.
Jenoptik thermal imaging camera: Outstanding image quality and precision radiometry acquired from experience
EVIDIR alpha infrared camera modules provide thermal images showing all details. This first-class quality is based on more than 30 years of Jenoptik's experience in the design, development and production of high-end infrared technology solutions.
Ultra high thermal sensitivity (lowest NETD) with up to
*under special conditions
Our objective: our thermal imaging camera offers the best possible precision for specific applications.
ultra high thermal sensitivity to view the tiniest differences in temperature – what is "high end" for our competitors is standard for us, so we always offer our customers the best product on the market.
Precise optical alignment of the sensor, housing and lens ensures excellent sharpness across the entire image
Internal camera image correction for superior image quality, unrivaled in the market in this class
The extremely reliable mechanical lock guarantees that it will operate even in the toughest conditions
Long-term stable shutterless operation allows uninterrupted observation from the very beginning, and is completely silent
The combination of mechanical shutter and shutterless operation results in an extremely high Mean Time Between Failures (MTBF)


Features and benefits of the EVIDIR alpha thermal imaging camera module
European Detector Technology
The modular approach gives the customer access to:


all variants without making any additional changes
various options for detector resolution, field of view, interfaces, radiation-based or viewer application, and choice of shutter mode

standard interfaces for easy integration into a wide range of applications
standard optics, but additional options available upon customer request – allowing the customer to choose the perfect field of view
the programmable video interface uses FPGA technology so customer-specific adaptations can be made to the interface
Outstanding features and technical data of EVIDIR alpha infrared cameras
The viewer produces a very detailed image (8-bit b/w or 16/24-bit false colors) with a non-linear gradation to view high contrast for every little detail. In this case, there is no obvious relationship between temperature and pixel value.
For viewer cameras, we have a visualization range of -40°C to 120°C (optionally up to 600°C) as standard.
The radiometic-based devices are designed to provide additional temperature information.
The radiometric calibrated device has two standard measuring ranges.
Zone 1: -40°C to 120°C and range 2: 0°C to 600°C.
Both zones are always active. You can switch between these two zones automatically or manually.
Three radiometric-based modes are available.
The camera generates temperature data from each pixel (16 bit), allwowing for subsequent temperature evaluation. Please note that these images are not suitable for creating an image! If an appropriate image has to be created for viewing, an external gradation process is required. This is not supported by the EVIDIR core. This grading process may include, for example, the creation of a false color image as well as level and range implementation.
Non-linear viewer image (8-bit B/W or 16/24-bit false colors) with additional temperature information in the form of up to 8 isothermals mixed into the viewer image and/or from three user-defined rectangular ROIs (Region of Interest) via the interface.
For an isotherm, as shown in the image below, the defined temperature range is colored. In the example, a temperature range has been colored yellow and anything hotter than this range has been colored orange. The commands can be used to define where the ROIs are located and how big they are. Please note that there is no OSD overlay in the output video to see this ROI frame!
The serial command interface allows the minimum, maximum, and average temperature to be retrieved from each ROI.
Both modes together are available on request. A non-linear viewer image (8-bit B/W) and a parallel output of temperature linear data (16-bit).
Best accuracy on the market with up to 
*under special conditions
Thermal imaging camera: Different interfaces for distinct requirements
EVIDIR alpha infrared camera modules are perfect for stationary and mobile applications. Thanks to their small size, low weight and low power consumption, EVIDIR alpha infrared camera modules can be easily integrated into all types of vehicles as well as portable, hand-held or highly mobile devices.
Development support
To test and verify the outstanding quality of our modules, we support our customers in the development process with USB samples and an extremely competent team of developers and application engineers. OEM interfaces (parallel CMOS or CameraLink) – infrared cores, and
customer-specific OEM solutions

Adaptation to customer needs
If no standard configuration meets your needs, the platform approach allows for easy customization to meet specific customer needs. Talk to us, and we will find a solution for your needs.
Thermal imaging camera: Different interfaces for different requirements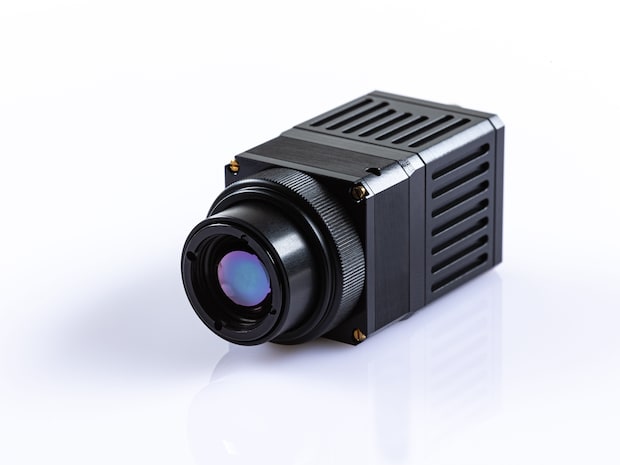 Use right after purchase
Thermal imaging cameras with GigE interface can be operated directly with additional software. To this end, we work with a partner with an excellent reputation that operates globally. The software developed by this partner has proven itself over many years, supported by an intuitive graphical user interface (GUI) and is continuously adapted to the current system requirements.

We also support our customers with a Software Development Kit (SDK) so the camera can be incorporated directly into the customer system.
Use over long distances
In contrast to USB, it is easier to connect the camera with a GigE interface to control devices such as a PC or tablet over long distances. This gives the user great flexibility in the measurement location and the evaluation location.
Datasheet OEM Module
Markets and applications for EVIDIR alpha thermal imaging cameras
Industrial applications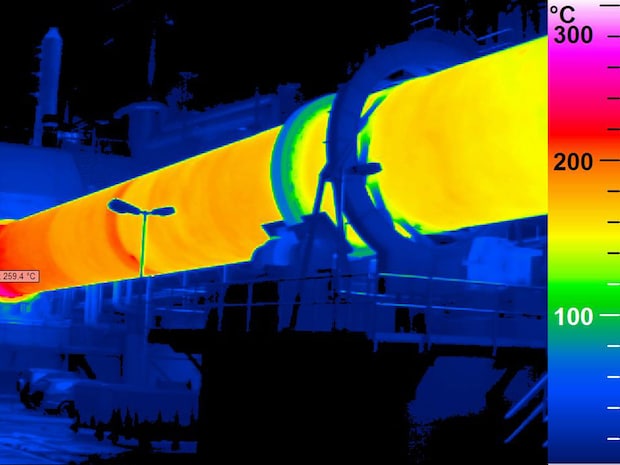 Process monitoring and control
Preventative maintenance
Quality control and material testing
Safety and occupational health and safety in production and logistics
Material processing and laser cutting
Production and process optimization
Energy industry, e.g. solar and power plants
Logistics and transport systems
Safety and security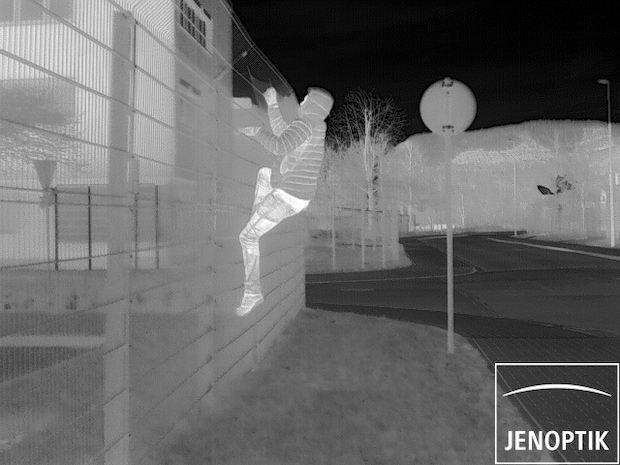 Monitoring temperature-sensitive processes and systems
Preventative maintenance
Monitoring critical infrastructure and facilities
Monitoring of public places and buildings
Intrusion protection, access control, building and system protection
Fire protection, fire detection, fire monitoring
Tracing injured or missing persons and animals
Rescue services, disaster response, THW
Border protection and surveillance
Police and private security services
Fire brigade
Drones and Unmanned Aircraft (UAV)
Mobility: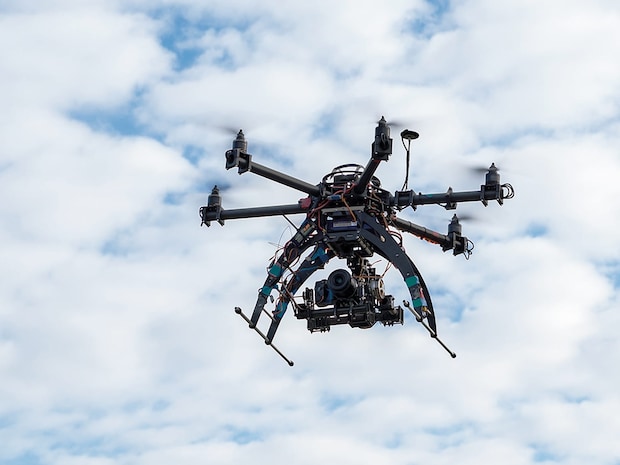 Drones and Unmanned Aircraft (UAV)
Railway technology and safety, for example collision avoidance and overheating protection
Autonomous guided vehicles (AGV)
Automated transport vehicles (ATV)
Capture environmental data, take aerial photographs
Monitor airspace and landing sites
Anti-collision
EVIDIR alpha – tech inside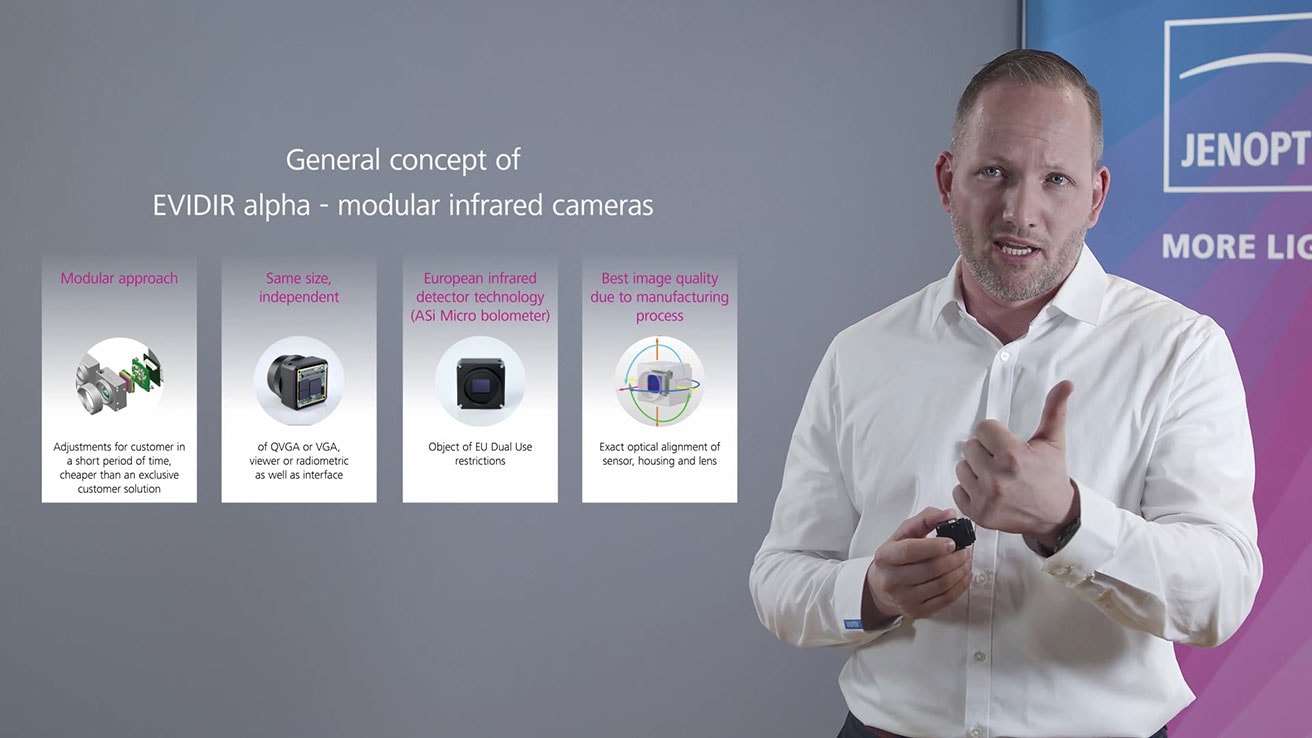 We are pleased to present the EVIDIR starter kit. The box contains all the necessary components to get off to a good start with EVIDIR.
01 – EVIDIR camera with lens and tripod adapter
02 – Flash drive with the software for installing the EVIDIR app and the user guide
03 – USB connection cable
04 – Adjustment ring*
05 – Mini tripod
A Quick Start Guide is also included in the packaging.
*only included if a 3.9 mm/7.2 mm/14 mm lens has been ordered.
Have we caught your attention?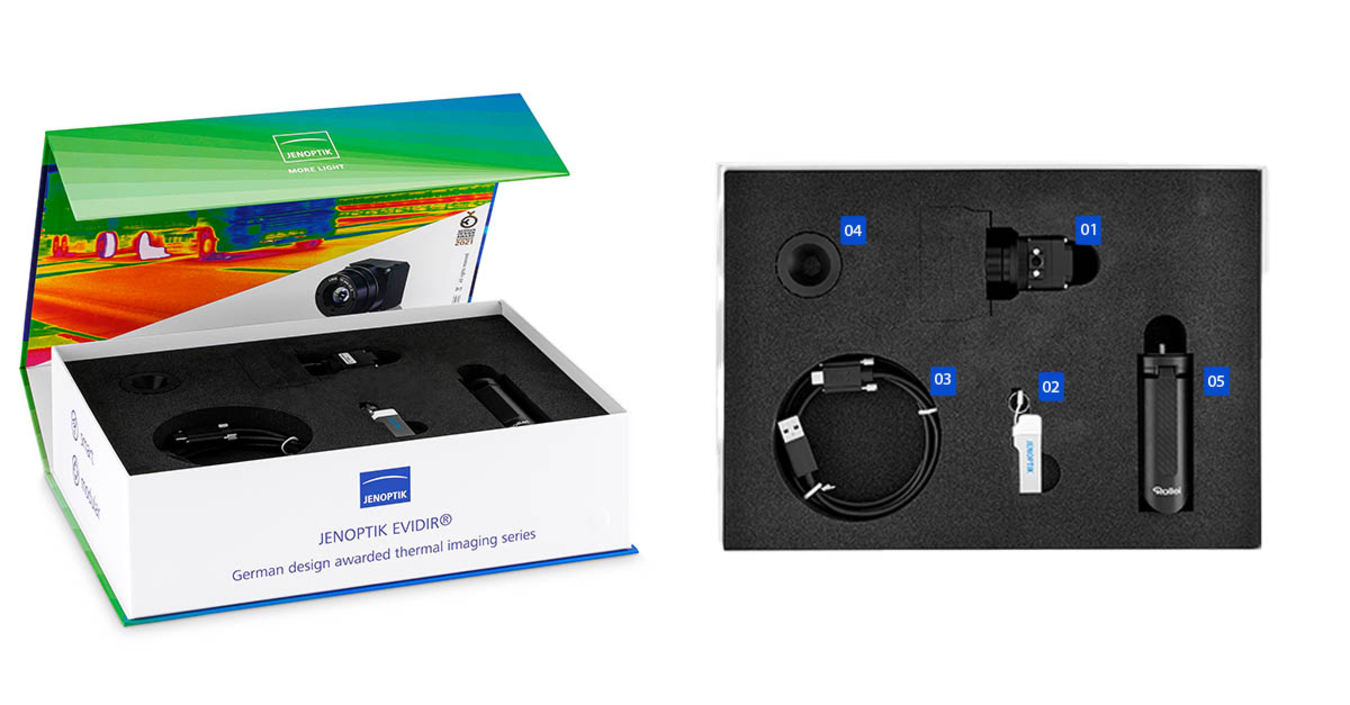 Recommendations
The right components – everything from a single source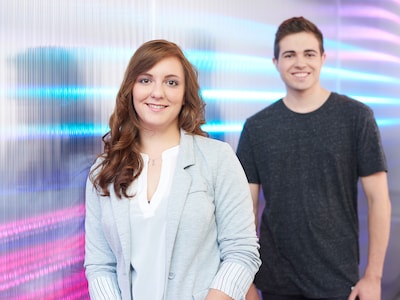 Sales Thermal Imaging
Sales Industrial Sensors