RecommendMail Facebook LinkedIn
Optical Technologies for Electronics and Information Technology
In the fields of electronics and information technology, optical technologies transfer information at ever higher transmission rates across all wavelength ranges.
Do you have any questions? Our experts are happy to help.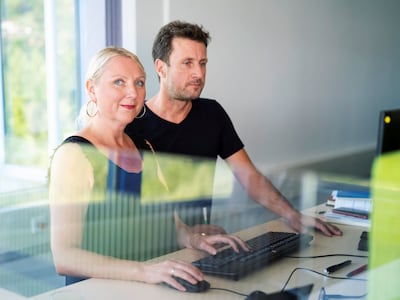 Optical Systems | Marketing & Communications
North America
Jena has long been an important technology center in the international optical industry, bringing leading innovations to market in this area every year. One of the core competences at Jenoptik is in the production of high-quality optical systems and components, which are used in a wide range of applications in the electronics and information technology industries.
Jenoptik is your expert development and production partner in both industries. In most cases, we develop our products based on customer-specific needs, using optical production methods and penetrating new areas of application.
The technologies are used, for example, in digital imaging for our solid-state lasers, photo diodes, high-precision polymer optics and LEDs, which deliver excellent beam quality. Our experts also apply their photonics expertise to the fields of optics, microoptics and optoelectronics, as well as our thermography cameras.
Our products deliver excellent quality and maximum precision. We also manufacture customer-specific systems that are perfectly tailored to your requirements. We provide detailed advice from planning and development, right through to series production, maintenance and servicing.
That means you can simplify and streamline your production processes and conserve resources. You can benefit from our many years of experience and our wealth of expertise.