RecommendFacebook Twitter LinkedIn
Driving future smart mobility and public safety
Getting closer to vision zero and seeing the bigger picture: Jenoptik supports law enforcement agencies worldwide with intelligent camera solutions for public safety.
Innovating public safety since 1934.
Jenoptik was founded in 1991 after the German reunification and our roots date back to 1846 with Carl Zeiss opening his optical workshop in Jena, Germany.
A few of many industry firsts all made possible by Jenoptik:
1934: World's first automatic camera patented for scientific and sports photography
1955: First police cars are equipped with mobile cameras by TraffiPax (now Jenoptik Light & Safety)
1960's: First deployment of camera applications for room surveillance in banks and secret services. First photographic passport recording systems for border control
1979: First innovator of ALPR in collaboration with a scientific police department
1983: First real-time ALPR system deployed
1996: First ALPR security cordon installed for the City of London (ring of steel)
2002: First ALPR-based congestion charge system delivered
2016: First delivery of Europe's largest Back Office for the Metropolitan Police, London, managing more than 60 million reads per day with complex live and retrospective analytics
2017: World´s first artificial intelligence engine for ALPR
2022: More firsts to come...
Our unparalleled expertise of more than 40 years of experience with ALPR solutions paves the way to master the future challenges.
Jenoptik is the right partner for you.
Artificial intelligence: Better results with faster processes.

Single source: Jenoptik designs and delivers both software and hardware.

Customized and flexible: Mobile and fixed solutions customizable to meet agency needs.

Effective: Positively impacting driver behavior for a safer community.

Easy to use: All-in-one unit, quick to install, configure and operate.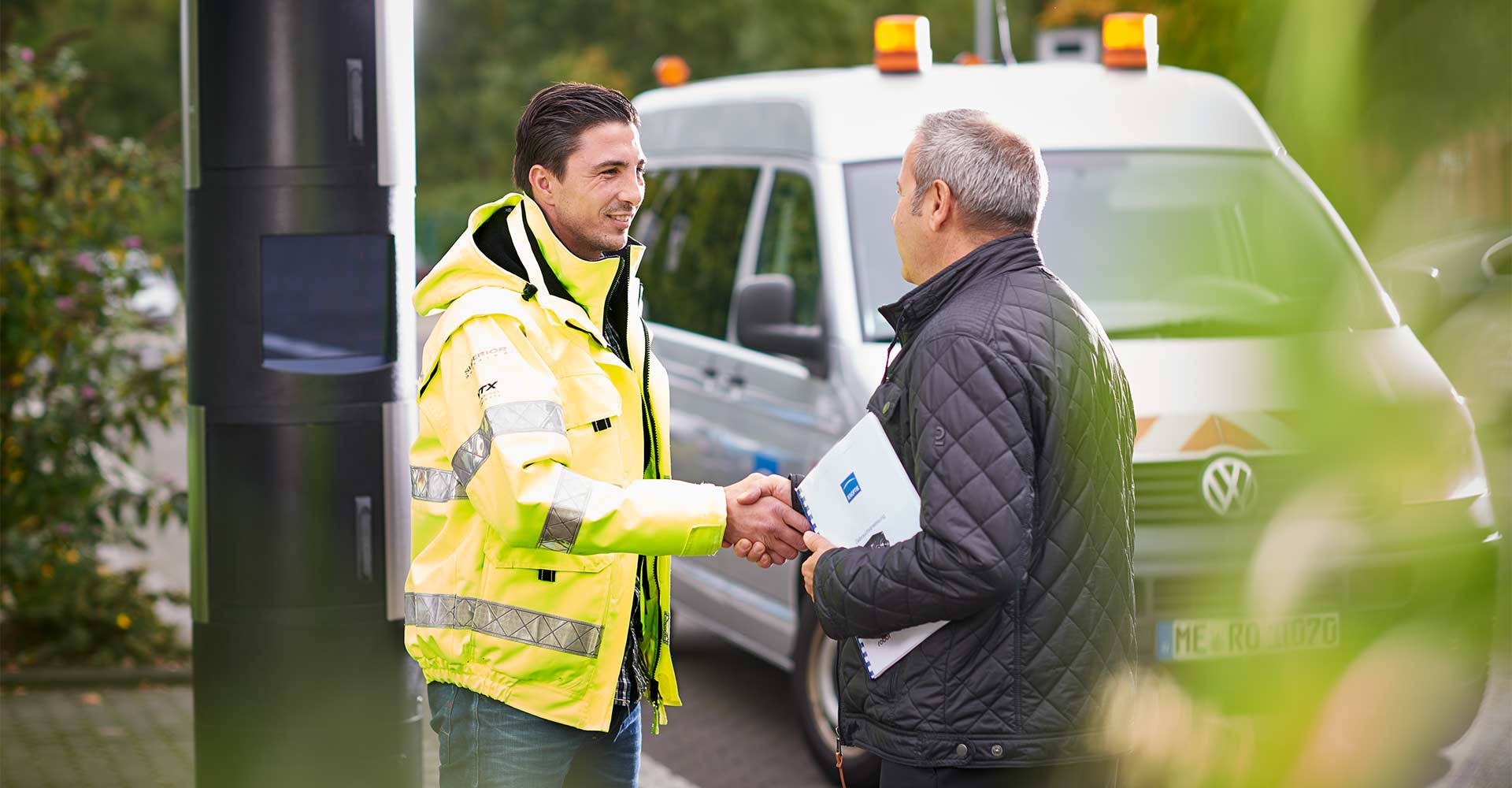 Driving smart mobility and public safety with intelligent camera solutions.
Making roads and communities smarter, safer, greener and more efficient.
Jenoptik is a global leader in road safety, smart transportation and civil security. We serve our customers by providing innovative solutions to make mobility safer and easier. For road safety, we provide state-of-the-art photo enforcement technology to positively impact driver behavior and enhance the safety on our roads. These include speed and red light cameras as well as many other enforcement applications. Our technology also helps roadway operators to manage traffic flow, emissions, congestion and tolls. Our ALPR solutions are applied worldwide for various applications such as protecting borders, public places, and combating crime. As cities become smarter and mobility becomes more autonomous and connected, Jenoptik contributes to make future mobility smarter, safer, greener and more efficient.
Full range of technology solutions increasing public safety
Speed Enforcement (school zones, tunnels, motorways, cities)
Redlight Enforcement
Intersection safety
Infrastructure protection (bridges)
Green Zones with Emission Control
Road User Charging
Parking Monitoring
Preventing and combating crime
Protecting public places
Hotlist alerts
Border Security
Campus Safety
Access Control
Investigation tools
Proof of performance
Canada: 40 percent reduction of traffic accidents with red light enforcement systems
Scotland: Average speed enforcement improves driver behavior to 99% speed compliance
Wales: Average speed monitoring tackles roadside nitrogen dioxide concentrations
Australia: State-of-the-art technology helps Western Australian Police to save lives by increasing road safety
Kuwait: Superior road safety thanks to the combined average and spot speed camera systems on the world´s longest sea bridge
Lithuania: Increased road safety and civil security with speed enforcement and ALPR
Belgium: Real-time ALPR alerts secure Europe's second largest port
United Kingdom: Quick identification and prevention of crime with ALPR solutions
Germany: Road User Charging solutions support one of the world's largest toll systems
Norway: Securing 2,600 km of Norwegian borders with ALPR cameras and back office solutions
Contact us for solutions to keep your community safe. Get more information here.
Want to know more? Read our mobility blog
Do you have any questions? We will be happy to help!
Sales United States