Liquid Crystal Light Modulators for the control of phase, amplitude and polarization state
You can use Jenoptik liquid crystal light modulators to control optical characteristics safely and reliably without mechanical moving parts.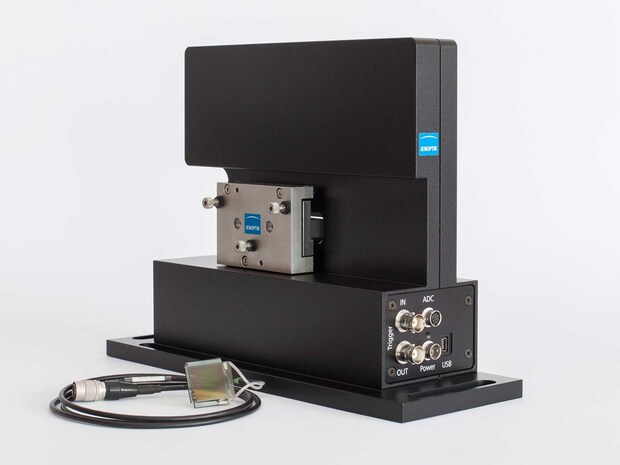 Liquid crystal light modulators are excellently suited for modulating the phase, amplitude or polarization state of a light wave. They are based on the electrical control of optical properties of a nematic liquid crystal layer.

An example of the capabilities of our liquid crystal laboratory is the SLM-S spatial light modulator based on a linear array of individually controllable strips. The modulators work for light in the 430 to 1600 nm wavelength range. They are equipped with a single-mask or a dual-mask array. The dual-mask array makes it possible to control the phase and amplitude simultaneously and independently.

Each of the 320 or 640 strips can be controlled separately with 12-bit resolution. All SLM-series liquid crystal modulators are easy to connect to your computer via USB.

On request, we manufacture customer-specific light modulators that are precisely adapted to your individual requirements, including electronics development.


Liquid Crystal Light Modulators for the control of phase, amplitude and polarization state
Benefits
Powerful: Single-pixel modulators and high-resolution spatial light modulators with a large array for high laser power
USB interface: Easy to connect to your computer
Broad wavelength range: 430–1600 nm
User-friendly operation: Thanks to an extensive LabView command set, MATLAB and C libraries for the SLM-S modulators
Customized: Adapted to meet your individual requirements, for example with specific antireflection coating
Fields of Application
Laser and material processing: Pulse shaping of high-power and ultrashort pulse lasers
Chemistry: Coherent control
Analytics: Multidimensional microscopy and spectroscopy
Laser technology: Pulse compression
Optics: Simple solutions for modulating light, in particular laser light, in the VIS and NIR range
Photonics: Variable phase/amplitude masks are used for shaping of fs laser pulses whenever researching and implementing ultrafast processes
Download
Jenoptik Liquid Crystal Light Modulators:
Do you have any questions? Our experts are happy to help.