With a mirror coating on an optical component made from polymer, you can reflect light, for example as a deflection mirror in a scanner, as a reflecting prism in a head-mounted display or in LED light sources. The workpiece is covered with a thin, metallic mirror on the front or back. This mirror is usually made from aluminum, silver or gold, combined with a protective layer that is adapted to the individual application. This combination is extremely effective and available at a low cost.

The aluminum mirror coating is ideal for broadband reflectors in the VIS range and well into the IR range. If you combine the mirror with an additional protective coating, aluminum is extremely resistant: The material also functions well under difficult environmental conditions, such as high humidity. When combined with a dielectric layer, aluminum is even more effective at reflecting light.

A mirror coating made from silver delivers optimal VIS reflection values when used under standard environmental conditions. Gold mirrors are best used in the infrared spectral range as they offer superb reflection properties and long-term stability.



Benefits
Versatile: Mirror-coating of materials in complex three-dimensional shapes
Reliable: PVD metallization (single and two-fold rotation) provides secure adhesion
Protective: Extra integrated protective coating
Proven testing procedure: Tested under actual production conditions
Variable: In-house procedure for transparent and non-transparent polymers
Fields of Application
Health care and life sciences: As a reflecting prism for a head-mounted display
Lighting and energy: Integrated into LED light sources
Automotive industry: As a deflection mirror for scanners
Do you have any questions? Our experts are happy to help.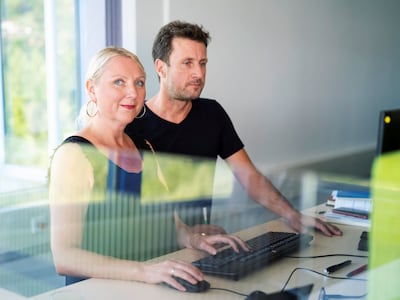 Polymer Optics & Optoelectronic Systems
North America