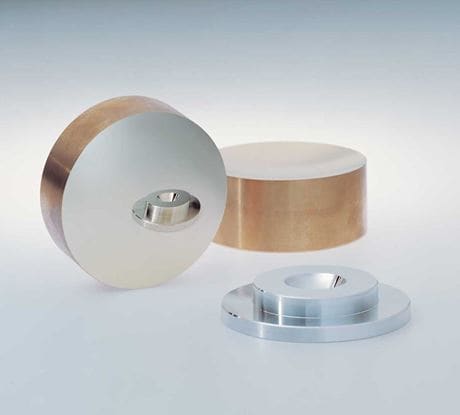 Metal mirrors from Jenoptik primarily use aluminum or silver coatings. These two materials are able to reflect light to a significant extent. Using state-of-the-art technology in a vapor deposition process, the metals are applied directly onto the components, which may be made of materials such as ceramic or glass. Our experts process workpieces in a wide range of geometric shapes with a high degree of precision. The metal mirrors are only dependent to a limited extent on the angle of incidence of the light and show only limited polarizing effects. This guarantees that the reflection remains consistent within a wide spectral range.
We manufacture rear surface mirrors and front surface mirrors in silver and aluminum. These include aluminum mirrors for DUV or VIS applications and silver mirrors for DUV, VIS, NIR and IR applications. If required, we can also supply coatings in gold, chromium or NiCr. Metal mirrors from Jenoptik are protected against environmental factors. They also comply with the strict requirements of the DIN ISO or MIL standards.
You can benefit from our years of experience and our wealth of expertise. Contact our experts for advice — they will be happy to develop customized metal mirrors to meet your exact requirements.
Benefits
Consistent: Reflection only dependent to a limited extent on the angle of incidence
Dimensionally accurate: Can be adapted to geometrically complex workpieces
Stable: Protected against environmental factors
Compliant with standards: Comply with DIN ISO or MIL standards
Fields of Application
Semiconductor equipment: Metal mirrors for beam guidance
Digital imaging: Metal mirrors for image capture and target detection
Automotive industry: Metal mirrors for metrology and equipment technology
Examples for successful Solutions: Laser Mirrors for DUV lasers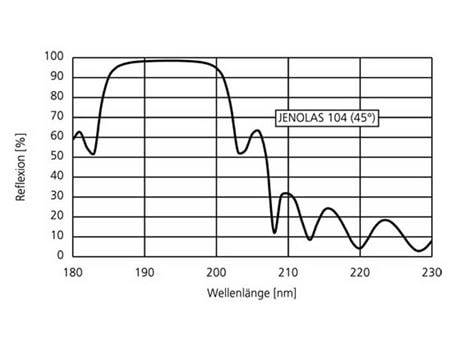 Laser Mirrors for DUV lasers
The assignment:
Special processes are required for the production, cleaning and coating of highly reflective components for the various elements used to control the radiation of DUV lasers.
Our solution:

Highly reflective components are produced in series for 266 nm, 248 nm and 193 nm wavelengths.
Outstanding guaranteed reflectivity values are achieved at an angle of 45°: R > 99,0 % for 248 nm or R > 97,0 % for 193 nm
The lifespan of the components meets the most demanding industrial requirements. For example, the lifespan of a highly reflective mirror for 193 nm is more than 5 x 109 pulses with 10 mJ/cm².
The laser destruction threshold for 193 nm is more than 1,5 J/cm² (1-on-1, 25 ns pulse length).
The JENOLAS 104 coating is available as a standard product.
Do you have any questions? Our experts are happy to help.