Reduce Laser Repetition Rates Using the Control Unit for Integrated Optical Amplitude Modulators
You can use the Pulse Selector IOM to control integrated optical amplitude modulators easily via the USB interface on your PC. The operating point of the light modulator is automatically stabilized in this process.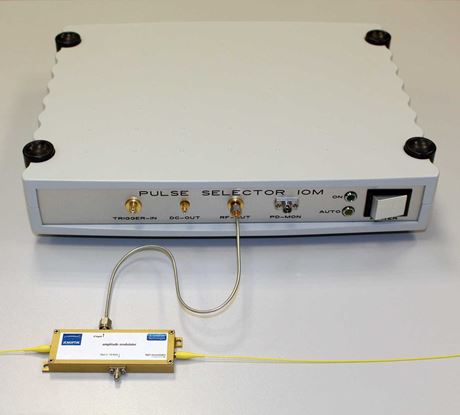 The Jenoptik Pulse Selector IOM is a control unit for integrated optical amplitude modulators. The pulse picker makes it possible to reduce the repetition rate of pulse lasers. Alternatively, you can use this control unit as a triggerable pulse generator.

The Pulse Selector IOM requires a TTL synchronous signal, which sets the laser repetition rate. You can control it easily using a command set via the USB interface on your computer. A photodiode is integrated into the pulse picker control unit. This enables you to use a feedback loop that automatically stabilizes the operating point of the amplitude modulator.


Benefits
Versatile: Reduce the laser pulse repetition rate, or use it as a pulse generator
User-friendly: Manual or automatic operation is possible
Practical: Easy to use via the USB interface on your PC
Feedback loop: Automatically control the stabilized operating point of the modulator
Fields of Application
Reduce the laser pulse repetition rate in oscillator-amplifier systems
Generate pulses
Do you have any questions? Our experts are happy to help.