RecommendMail Facebook Twitter Google Plus LinkedIn
Individual Interferometric Testing of Optics Using Computer Generated Holograms
Computer-generated holograms from Jenoptik are used in the interferometric testing of optics, whereby the measurement setup is precisely tailored to your specific requirements.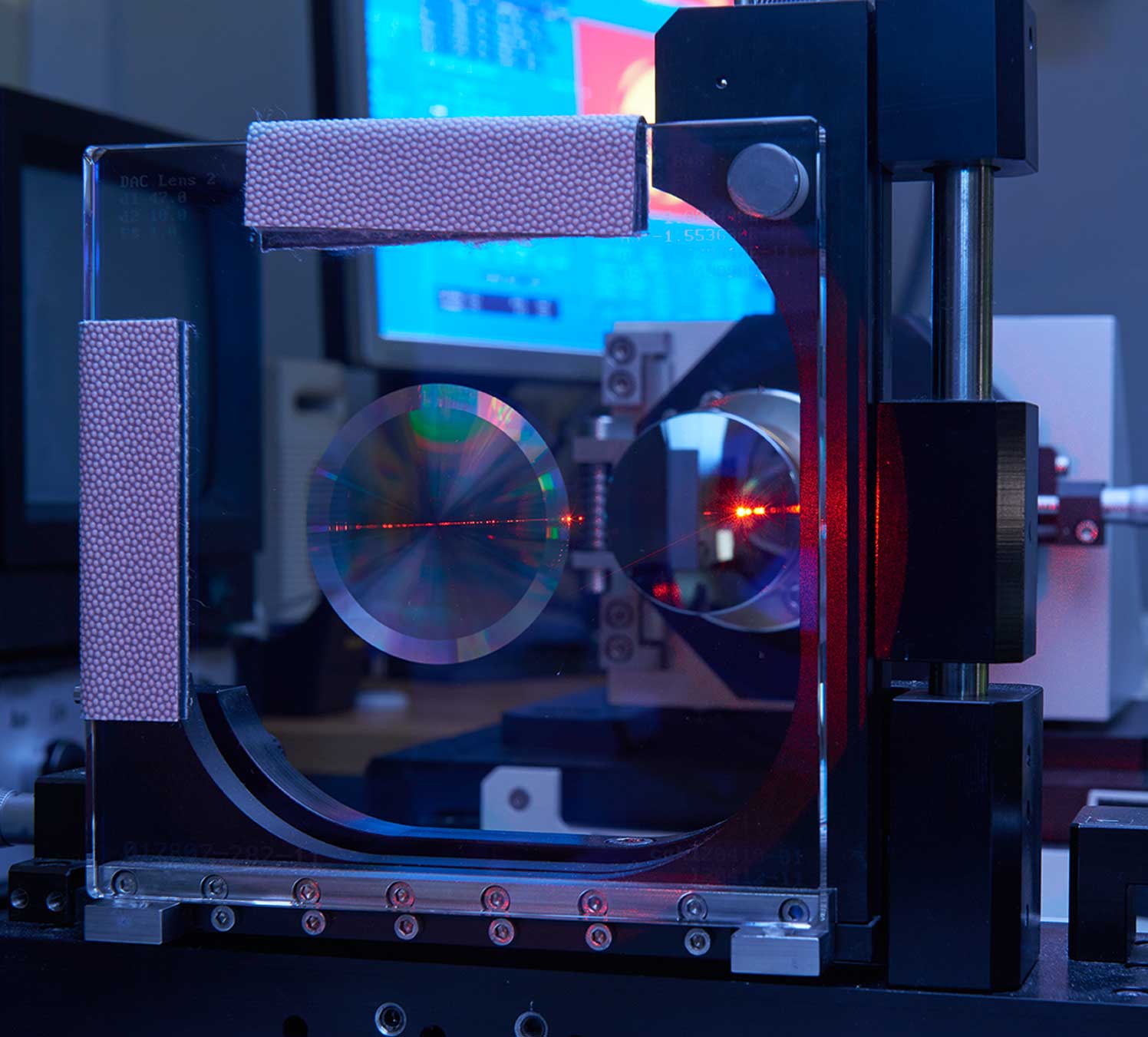 Jenoptik manufactures computer-generated holograms (CGHs) using rapid and efficient microlithography processes. We can develop a customized test setup for your needs, which enables you to perform interferometric testing of your aspherical lenses.
CGHs transform the wavefront in the interferometer into an aspherical wavefront. This increases your options for testing using your Fizeau interferometers, allowing you to test aspheres, cylinders and free forms.
The CGH is positioned inside the interferometer using an integrated adjustment feature. The CGH is placed between the reference lens and the object that you want to measure. The distance can be freely defined in order to use the full resolution of your measurement system. Reflections are almost completely ruled out thanks to the optimal positioning of the CGH.
Special substrates have been specially prepared for our CGHs. This guarantees excellent measurement accuracy and quality. Computer-generated holograms do not degrade over time and they offer rapid and high-resolution measurements with high precision and repeatability. Therefore, CGHs are the ideal tool for your measurements and corrections of optical surfaces. CGHs can even be used in high volume lens manufacturing processes, since they are easy to use.
Benefits
Customer-specific: Individual CGHs for your specific requirements
Optimized: Measurement setup perfectly tailored for interferometric tests
Precise: Position the hologram precisely in the interferometer
Efficient: Standardized production processes ensure holograms can be produced rapidly
Expertise: Jenoptik experts are on hand to support and advise you
Fields of Application
Precision measurements: Interferometric testing of optics such as aspherical lenses
Test setups for measurements based on computer generated holograms
Individually adjusted test setups enable interferometric testing of aspherical and cylindrical surfaces. Which particular test setup is required for the respective customized application must be determined in advance by an individual consultancy service.


Test setup 1 enables interferometric testing of convex specimen.
Using an individual Computer Generated Hologram, a convergent test wave is generated which enables precise measurement of the test specimen


Test setup 2 enables interferometric testing of concave specimen.
The extrafocal configuration of the CGH generates a divergent measuring wave that provides an exact measurement of the specimen.

Test setup 3 also enables interferometric testing of concave test specimen.
The CGH configuration is intrafocal and generates divergent measuring wave.
The advantage of this test setup is that components with large diameters can be tested.



Do you have any questions? Our experts are happy to help.