RecommendFacebook Twitter LinkedIn
Mobile or Stationary — Measuring Systems for Roughness Measurement according to Your Requirements
The versatile Jenoptik measuring systems allow you to optimize the roughness measurement of your workpieces — for maximum quality in production
You can measure the surface texture of your workpieces using tactile roughness measurement. Various measuring systems are available — from compact portable instruments for mobile applications and stationary systems for complex measuring tasks through to customer-specific specialized measuring stations.
Our roughness measuring instruments are highly precise and reliable. They are ideal for daily use in production and are simple to operate, saving you time, costs and resources. Our many years of experience and extensive expertise mean that we are extremely familiar with the different requirements of our customers. We would be happy to tailor the roughness measurement systems to your workpiece-specific measuring tasks.
Benefits
High precision: Precise and reliable measurement.
Versatile: Mobile and stationary measuring instruments for different measuring tasks.
Compliant with standards: Meet the strict requirements of international standards.
Easy to use: Intuitive state-of-the-art technology and user-friendly software.
Applications
Automotive industry: Measure the surface roughness of your workpieces
Mobile roughness measuring with the Waveline W10
Choose the right mobile device for roughness measurement for your application 
The Waveline W5 - Measuring Instrument for Mobile Roughness Measurement: Light, Small and with a Long-Life Battery Pack
The Waveline W10 - Measuring Instrument: Mobile Roughness Measurement for Transverse Probing, Overhead Positions and Vertical Positions
The Waveline W20 - Skidless Probe System Optimizes Your Mobile Roughness Measurement Tasks
Downloads
Flexible Mobile surface roughness measurement
Product recommendations for combined and stationary roughness measurement
Please contact our experts for advice!
Industrial Metrology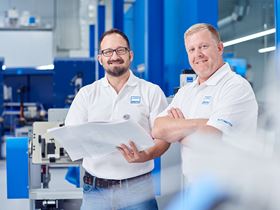 Industrial Metrology