RecommendMail Facebook LinkedIn
Jenoptik supplies state-of-the-art laser systems for automotive supplier Xinquan in China
A Chinese automotive supplier has ordered an additional laser-scoring machine for precision airbag perforation, investing in industry leading technology for processing automotive interiors.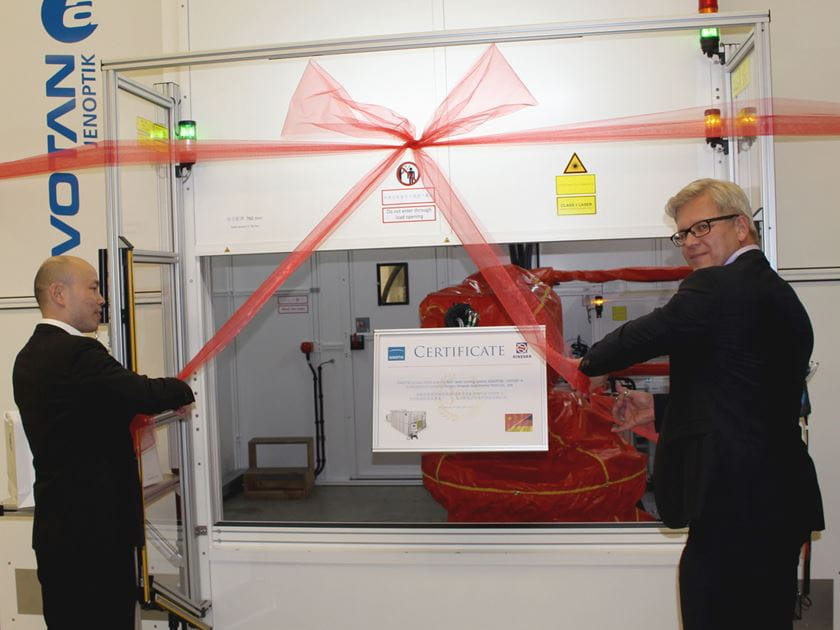 Long-term customer Jiangsu Xinquan Automotive Trim Co Ltd, located near Shanghai, has ordered an additional airbag laser perforation system from Jenoptik, after a recent delivery of an identical system to the same customer just a few weeks earlier. The new JENOPTIK-VOTAN A Scan system is currently being set up and commissioned in Jena, Germany. Delivery will take place shortly before summer.
Jenoptik President & CEO Stefan Traeger: "We are particularly pleased that Xinquan placed the order only a few days after resuming their daily business after a multi-week shutdown. As manufacturing activity in China actively increases, Chinese car models will continue to be equipped with lasered airbag solutions from Jenoptik in the future."
JENOPTIK-VOTAN A Scan is the latest member of the product family that enables more efficient processing of safety system related materials in the automotive market. Using a fast-moving laser beam on a stationary component, the VOTAN A fires sensor-controlled light pulses too precisely cut predetermined breaking points in airbag covers. This results in simplified instrument panel air bag integration, improved esthetics and increased safety. Additionally, the technology can be adapted for processing sensitive materials such as leather, foam foils, as well as single- and multi-layer materials commonly used for vehicle interiors.
Images can be downloaded from the Jenoptik image database at media.jenoptik.com.
Image: In 2018 the Chinese customer Xinquan had already received a special laser machine of the JENOPTIK-VOTAN A type: At that time, with that order, Jenoptik had reached the mark of 300 VOTAN A laser scoring systems delivered worldwide. ©Jenoptik.
About Jenoptik
Jenoptik is a globally operating technology group, which is active in the three photonics-based divisions Light & Optics, Light & Production and Light & Safety. Optical technologies are the very basis of our business with the majority of our products and services being provided to the photonics market. Our key target markets primarily include the semiconductor equipment industry, the medical technology, automotive and mechanical engineering, traffic, aviation as well as the security and defense technology industries. Jenoptik is listed on the Frankfurt Stock Exchange, has more than 4,100 employees and generated revenue of approx. 855 million euros in 2019.
The Light & Production Division of Jenoptik is a global specialist in the optimization of manufacturing processes. Our many years of experience and know-how in the field of industrial measurement technology and optical inspection, modern laser-based material processing and highly flexible robot-based automation enable us to develop tailor-made manufacturing solutions for our customers in automotive, aerospace, healthcare and other manufacturing industries. We are an established key supplier in the global automotive market. Every day we face the modern challenges regarding flexibility, productivity and increasing variety and thus cover the growing demand for complex industrial solutions with a focus on machine integration and process automation. As a development and optimization partner, we support our customers in their strategic challenges by combining our key technologies, thus taking market- and customer-specific systems to a new level.